About
Hi!!! I'm Mary Joy Manlangit Bautista, Mj for short; I'm a desperate HR blogger. This blog contains Mj's ideas, experiences and learning as a student, sister, leader, daughter, Filipino, Christian, volunteer and scholar from her everyday journey in life. As she keep moving toward her dreams and purpose in life no matter what happen in her circumstances.
Categories
Recent Posts
Blogroll
Inspirational Sites
Calendar
Archives
Featured Posts
The world has a lot of negative people in it. Are you one of them? Do you expect the worst from situations? Do you criticize more often than praise? It does not have to be this way. A positive attitude can be as simple as changing the way you look at things.
Error: Twitter did not respond. Please wait a few minutes and refresh this page.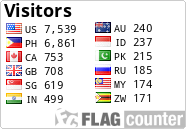 Footprints in the sand
Now Reading
Search